THIS COMPETITION IS NOW CLOSED
Follow us on social media so you don't miss out on the next one!
Help! The elves have taken over the GuestRevu website, blog, and client dashboard. We sent Santa and Rudolph in to find them, but now they are lost too!
Help us to find them, and you'll be entered into a draw to win a year's free GuestRevu! With each elf you spot, you increase your chances of winning – whether you're already a client or not.
1. How to play
Four different elves, Santa, and Rudolph are hiding on some of our blog posts, website pages, and client reports and dashboards. When you spot one of them, click on them and leave your details so we know you have spotted them. This will also automatically enter you into the draw for the grand prize!
The more elves you find, the more times you will be entered and the better your chances of winning. If you are lucky enough to spot Santa or Rudolph, you get extra bonus points! You can also increase your chances by taking a screenshot of the elf, Rudolph or Santa, and posting it on social media (but remember to @mention GuestRevu so we can count the extra entries).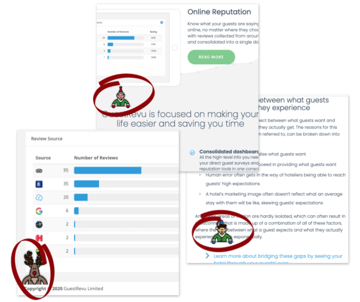 The entries are counted as follows:
Submit a captured elf form = 1 entry
Share a screenshot of an elf (on the page were you found him) on social media = 5 entries
Submit a captured Rudolph or Santa form = 2 entries
Share a screenshot of Rudolph or Santa (on the page were you found him) on social media = 10 entries
A winner will be drawn at random, but the more entries you have, the better your chances are!
2. What do I win and what are the benefits?
If you are the lucky winner, you will get the full GuestRevu solution for one year. Using GuestRevu's automated guest feedback and online reputation management solution will provide you with a much more effective way of engaging with your guests and tracking online reviews:
Through the individual guest responses, you'll be able to listen to each of your guests and get detailed feedback on operational specifics
The integration with TripAdvisor and Google will enable you to drive more reviews to these sites, ensuring you get in front of as many potential guests as possible
The consolidated dashboard of online reviews will show you how you're performing across all sites and enable you to monitor the reputation of your competitors and benchmark your performance against them
With the dashboard and reports, you'll be able to take a step back and understand what your guests think of their experience with you from their perspective, as well as identifying trends
By using those insights, you'll identify areas where you can make key changes which will positively impact you guest satisfaction scores, as well as discover where you exceed your guests' expectations
Operational changes, together with enhanced marketing information gained from guest insights and an improved ranking on TripAdvisor will ultimately have a positive impact on your RevPAR and bottom line
No obligations apply once that year is up, and you can choose to stop using GuestRevu at any point during the year's free subscription.
Happy hunting, and good luck!



Terms and conditions
The Rules of the competition
1. In order to qualify for the grand prize, your hotel will need to be using a Property Management System (PMS) with which GuestRevu as an active integration (the list can be found here)
2. Submitting the form on the same elf/Rudolph/Santa multiple times will not increase your number of entries
3. Social media entry multipliers will only be applied if GuestRevu is tagged/@mentioned
4. Closing date for entries will be 15th Jan 2021
5. Winners will be announced via email and social media on 30 Jan 2021
The Prizes
If you are a GuestRevu client already your free year will start as of your next invoice.
1. Winners who are not already GuestRevu clients will be required to:
a) approve their GuestRevu questionnaire
b) choose 3 competitors against which to benchmark their online reputation
c) authorise GuestRevu to collect reviews from their Facebook account
2. The GuestRevu team will be in contact to set up your account and provide training on the solution
3. This is all free of charge for the duration of one year
4. At the end of the free prize period your account will be deactivated, NO costs will be incurred by you.
5. If you wish to continue after the free period has elapsed, your GuestRevu consultants will be happy to assist